In-Store Demo - Free!
Winsor & Newton Watercolors
Saturday, August 19, 1-3 p.m.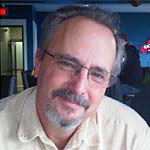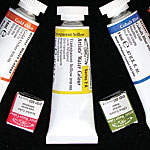 Winsor & Newton representative and chemist Steve Gallisdorfer will be presenting the technical aspects of watercolors such as which pigments to use when and why, color mixing, lightfastness, the history of particular colors and also the use of watercolor mediums to change the paint's characteristics. Steve is always very entertaining and is happy to answer any of your painting questions.
Website: Winsor & Newton Watercolors.
Please stop by the store or contact us to sign up for our demo reminder e-mail list!
And remember that we will have lots of one-day sales on the day of the demonstration! Plus a free raffle and free samples for those who attend the demo!
---
General Pencil - "You Want Me to Do WHAT with That Pencil?"
Friday, August 25, 10 a.m. - Noon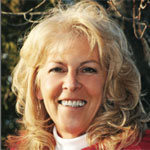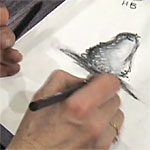 General Pencil presents a fun afternoon of "Painting with Pencils" with Artist and Demonstrator Kathi Hanson!
Exciting pencil art contains the "unexpected" mark! After many years of experimentation, Kathi has mastered how to manipulate all type pencil pigments in non-traditional ways to create additional mood, movement, texture, dimension, detail, and of course, the "unexpected" mark! Techniques such as how to grate, pounce, rock, roll, and burnish (all types) of pencil pigment will be demonstrated as well as how you can paint with pencils. These techniques can be mastered by artists of all age levels and abilities and once implemented will take their artwork to the next level.

Drawing/painting tools included. Attendees will get to keep key basic materials!
Kathi Hanson has been teaching workshops across the U.S.A. and Canada for the past thirty years. She is known for her vast knowledge of subject matter and unique special effect techniques in multiple mediums. Her workshops are very popular due to her creative, informative, teaching style and the personal attention she gives to each student.

Kathi has won several awards for her work, has published over 75 art related articles in national art magazines, collaborated/created artwork for several Art Technique books on the market, and has created a variety of instructional painting technique DVD's available through websites and local art stores.

For the past ten years Kathi has also spent a portion of each year on the road sharing her varied art techniques with college students in Foundations, Sequential, Painting and Illustration departments and conducting district art teacher PD (professional development) workshops.
Learn more about Kathi: kathihanson.com
And remember that we will have lots of one-day sales on the day of the demonstration!
A note on parking. Given that this is a weekday demo, we ask you to park at Holy Cross Church and walk down. We need to keep our lot open for in-and-out customers—we have to pay the bills!—and demo attendees who have issues walking.
---
Sennelier Oil Paints
Saturday, September 9, 1-3 p.m.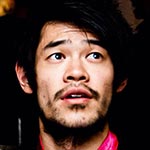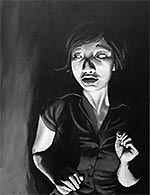 Bay Area artist Rick Kitagawa will be explaining and demonstrating Sennelier Artists' Oils. Rick is an award-winning visual artist, storyteller, and arts educator based in San Francisco. With degrees from UC Berkeley and Academy of Art University, Rick is a multidisciplinary artist weaving together digital with traditional media, text and imagery, abstract and figurative, painting and printmaking.
Rick's work has been seen in venues all over the SF Bay Area, including SPACE gallery, 111 Minna, and Big Umbrella Studios.
As an arts educator, he has taught workshops for Apple, the Museum of Craft and Design, and the Academy of Sciences, and teaches business courses for artists at the Academy of Art University.
www.rickkitagawa.com
And remember that we will have lots of one-day sales on the day of the demonstration! Plus a free raffle and free samples for those who attend the demo!
---
And more demos coming. . . check back for more information!
Want notices of our free demonstrations?

Sign up for our demo email list!

You'll hear about our demos and we'll include news, art information, specials, some humor and otherwise keep you in touch with happenings at Lenz Arts, the art mecca of Santa Cruz!