In-Store Demonstrations - Free!
Golden Brand Acrylics WORKSHOP - $60
Saturday, January 31, 2-5 p.m.
*** SORRY! SOLD OUT! ***
Sign up for our demo email list if you'd like to get notifications of future workshops and free demonstrations!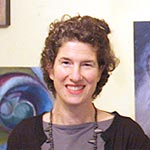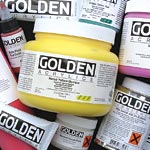 In Judy's own words about this 3-hour hands-on workshop . . .
Discover gels that thrill you. Incorporate Iridescent and Interference Paints into those gels.

This Workshop will light you up with the excellent experience of pairing of gels and shiny paints. In this three-hour hands-on workshop, you will experiment by creating small paintings with a wide variety of Golden Gels. The textures and surfaces you can make are limitless. Are you a fan of gooeyness, slick finishes, matte surfaces, transparent glazes or thick paint? Do you have gels that you don't know how to use? This is the way to find out.

As we discover our way through the world of gels we'll go on a sensational and colorful journey with the amazing Iridescent and Interference Golden paints.

Enjoy the intense effects of iridescent paints. Infer the Infinite Interference possibilities. Oh – the illustriousness of it all… explore techniques of applying these paints that excite you! Create an orchestral painting of varied surfaces, textures and colors.
We will make many small paintings and find ways to incorporate these phenomenal paints into your work.

Some materials we will use are: Tar Gel, Fiber Paste, Light Molding Paste, Micaceous Iron Oxide, Iridescent Stainless Steele, Bronze and Silver. Interference Blue, Green and Violet

All materials provided. Come ready to paint.
Spots are LIMITED. Call us at 831-423-1935 with your credit card number or come by to register. There's still room, but don't wait!
Judy Gittelsohn, our presenter, has been painting in the Bay Area for over 30 years. She is represented by Anne Loucks Gallery, Art Dimensions Los Angeles and The San Francisco Museum of Modern Art Artists' Gallery. Her paintings have been published in TIME magazine and Metropolitan Home Magazine.
She will demonstrate and discuss Golden Acrylic paints including Golden's slow-drying Open Acrylics. Judy demonstrates up and down the West Coast. Learn more about Judy at her website: judyg.com
---
Jacquard Screen Printing & SolarFast
Saturday, February 21, 1-3 p.m.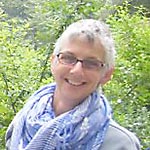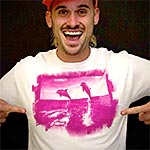 Annette Pierson, who has worked for Jacquard for 9 years, has showing Jacquard products up and down the coast.
Annette will be demonstrating screen printing from start to finish using Jacquard's screen printing products, including their inks. Learn how to screen print your own T-shirts, posters, artwork, etc. Annette will also be discussing a variety of Jacquard's fabric products that can be used in conjunction with screen printing . . . paste dye removers, etc.
AND sun-powered photography and print-making photographers, screen printers, print makers and dyers rejoice! With SolarFast, Jacquard has taken photography out of the darkroom and opened up a whole world of light-powered print making!
SolarFast is a light-developed dye that is permanent and archival on any artist paper or natural fabric. This means you can now print continuous-tone photographs in any color, directly onto paper or fabric, without a darkroom, without additional chemicals, without heat setting, without steaming…it's fast and easy and the results will blow you away! SolarFast is also great for tie dyeing, batik, screen printing, painting, and more—it is always completely soft on fabric, and you never have to worry about setting the colors the way you do with other paints, inks and dyes. This seminar will cover the entire process, from start to finish, and show you how to turn a snap shot, drawing, or found image into a T-shirt or artist print in a matter of minutes. We will also explore the practically infinite possibilities SolarFast opens to artists.
Annette will also be available to answer questions about fabric dyeing, silk dyeing and more! Learn a lot!
And remember that we will have lots of one-day sales on the day of the demonstration! Plus a free raffle and free samples for those who attend the demo!
---
And more demos coming. . . check back for more information!
Want notices of our free demonstrations?

Sign up for our demo email list!

You'll hear about our demos and we'll include news, art information, specials, some humor and otherwise keep you in touch with happenings at Lenz Arts, the art mecca of Santa Cruz!