In-Store Demo - Free!
The Full Impressionist Palette, Safe Non-Hazardous Oil Painting for Youth or Adults
Saturday, April 29, 1-3 p.m.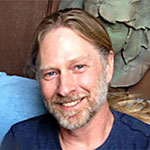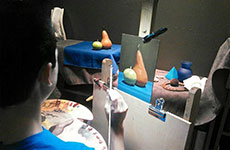 Atelier Instructor Gabriel Coke has been introducing children as young as 12 years old to oil painting. This demo will explain the safe practices of the "Oil Only" method using a non-hazardous palette.
A palette of non-hazardous paints will be thoroughly explained, as well as the practice of painting and cleaning without solvents. This may also be of interest to adults who want to improve their personal safety at home or in their studio. Gabriel Coke uses these methods to teach drawing and Painting at NUMU Atelier in Los Gatos, CA.
Gabriel also arranges quite a number of exceptional artists who come and do workshops at the museum in Los Gatos where he is a director: NUMU Visiting Artists. It's very much worth checking out!
And remember that we will have lots of one-day sales on the day of the demonstration!
---
In-Store Demo - Free!
Sennelier Abstract Brand Acrylics
Saturday, May 6, 1-3 p.m.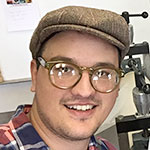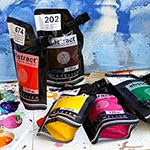 Andrew Cook, Andrew Cook is an Artist living and working in Northern California. For the past decade, his artistic focus has been in experimenting with materials and composition to create engaging abstract works. When he is not painting in his studio, he can be found working at Savoir-Faire—exclusive Sennelier importer for the USA—taking care of their education department.
Find out for yourself why Sennelier Abstract Acrylic Paint is so innovative. Andrew Cook will be on hand to discuss the benefits of this amazing paint, while you have an opportunity to use it for yourself.
Sennelier Abstract is a high quality acrylic paint, that meets all of the stringent quality demands that you will expect from Sennelier.
Available in 60 colors (36 Satin, 12 High Gloss, 6 Iridescent and 6 Fluorescent), the highly pigmented paint features a heavy-body texture that offers great covering power. Painting straight out of the extra-sturdy pouch through the practical beak makes abstract ideal for all styles of art. The pouch is also economical, totally squeezable, and has a transparent window for accurate color reference. Sennelier has been indeed modern since 1887.
And remember that we will have lots of one-day sales on the day of the demonstration! Plus a free raffle and free samples for those who attend the demo!
---
In-Store CLASS - Free*!
Drawing for Absolute Beginners
Saturday, May 20, 1-3 p.m.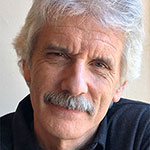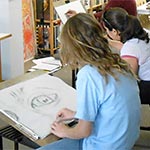 The easy-going and encouraging Rob Court, local drawing coach from The Scribbles Institute, will be conducting a hands-on introductory drawing class for people who are scared of drawing. He'll cover how to hold a pencil, drawing from observation, and basic composition. This is a session for rank beginners!
Class space is limited so registration is required. *The class is free but there is $5 deposit which will be refunded in the form of a store credit when you arrive for the class. ("No-show = no dough!") Students are required to have a 9x12 sketch pad and 2B, 4B and 8B drawing pencils. Students may buy a sketch pad at 30% off for the class!
*** MAKE SURE TO REGISTER! ***
---
And more demos coming. . . check back for more information!
Want notices of our free demonstrations?

Sign up for our demo email list!

You'll hear about our demos and we'll include news, art information, specials, some humor and otherwise keep you in touch with happenings at Lenz Arts, the art mecca of Santa Cruz!