In-Store Demonstration - Free!
M.Graham Oils, Acrylics, Watercolors, Gouache & Connoisseur Brushes
Thursday, April 24th, 3-5 p.m.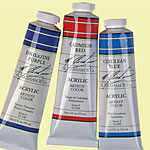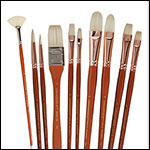 Dan Justus, based in Oregon, has been involved in the art materials trade for over 30 years. Dan has done seminars up and down the West Coast. Dan will present the M.Graham professional lines of paints (Oil, Acrylic, Watercolors, Gouache) as well as Connoisseur brand paint brushes. Dan will explain just what make Connoisseur brushes the cat's meow. At the end of the demo, there will be an opportunity to dabble with of the lines of paint yourself.
Attend the demo and get a ticket to enter the free raffle that afternoon for a FREE TRAVEL EASEL!! (No, we're not kidding!) Plus lots of attendance prizes!
Visit the M.Graham website: M.Graham & Co.
Visit the Connoisseur website: Connoisseur Brushes.
Gamblin Oils - Understanding Contemporary Oil Painting Materials
Saturday, April 26, 1-3 p.m.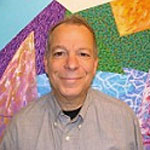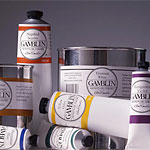 Glenn Brill, Artist Representative for Gamblin Artist's Colors, will present a practical, hands-on educational presentation on Gamblin Oil Colors. This 90 minute presentation will cover all aspects of oil paints, mediums and varnishes, including:
Color Theory and Practical Color Mixing
Navigating Color Space
Mineral vs. Modern Pigments
Understanding Color Names
Oil Paint Manufacturing
Professional Grade Oil Paint vs. Student Grade Oil Paint
Mediums and Varnishes
Indirect vs. Direct Painting Techniques
Supports, Sizing and Grounds
Studio Safety
The goal of the presentation is not only to educate participants on oil paints but to provide information that will enable attendees to create their personalized palette. All attendees will receive FREE Gamblin Product & Literature Samples.
About the Presenter:
Glenn Brill has presented over 300 educational presentations throughout the U.S., Europe and Asia. Currently an Adjunct Professor at San Francisco State University, Glenn has also taught at California College of the Arts, San Francisco Art Institute and University of California at Hayward. Glenn has been involved in art material product development and education for over 15 years. He has worked for some of the premier art material companies as Director of Education, helping to develop and test oil and acrylic paints, brushes, canvas, paper, and drawing materials. Glenn has been the recipient of two National Endowment for the Arts Visual Fellowships, Author of "Beyond the Brush" and co-author of "The Acrylic Handbook". His artworks are in the permanent collections of the Archives of American Art, Brooklyn Museum, San Jose Museum and Phoenix Art Museum. Glenn holds a BFA from the California College of Arts and Crafts, an MFA from Cranbrook Academy of Art and is a Tamarind Master Printer. His work can be viewed at: glennbrill.com.
Please stop by the store or contact us to sign up for our demo reminder e-mail list!
And remember that we will have lots of one-day sales on the day of the demonstration! Plus a free raffle and often free samples for those who attend our demos!

Want notices of our free demonstrations?

Sign up for our demo email list!

You'll hear about our demos and we'll include news, art information, specials, some humor and otherwise keep you in touch with happenings at Lenz Arts, the art mecca of Santa Cruz!
And more demos are coming!