In-Store Demo - Free!
Caran D'Ache Artists' Pencils
Saturday, April 28, 1-3 p.m.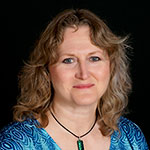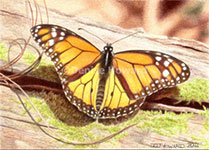 Denise Howard, artist, author, and workshop instructor, will be demonstrating some of her very favorite pencils for color drawing. You get what you pay for when it comes to art materials, so learn why Caran d'Ache is a premium brand! Caran d'Ache's Luminance and Pablo colored pencils, and Supracolor and Museum Aquarelle watercolor pencils will all be on hand for demonstration and tryout.
Denise grew up on a farm in rural Missouri surrounded by animals and nature. As soon as she could hold a pencil she started drawing everything, and her world revolved around her art until she finished college. She earned a B.A. in Art and a B.S. in Math/Computer Science concurrently from Truman State University, and later an M.S. in Computer Science from Ohio State University, focused on computer graphics. She worked for several Silicon Valley companies, was one of the developers of iPhoto at Apple and earned movie credits on Antz and Shrek at PDI/Dreamworks. Software engineering left little time or energy for creating art for 25+ years.
Finally the urge to return to her art became too strong to ignore, so she began committing the time to pursue it as a second career and quickly began receiving local, national and international recognition for her realist colored pencil and graphite work. She is a signature member of the Colored Pencil Society of America (CPSA) and the UK Colored Pencil Society (UKCPS), and has Master Pencil Artist Status (MPAS) with the Pencil Art Society (PAS). She is national Marketing Director of the CPSA.
Learn more at her website: DeniseJHowardArt.com.
And remember that we will have lots of one-day sales on the day of the demonstration! Plus a free raffle and free samples for those who attend the demo!
---
In-Store Demo - Free!
Golden Brand Acrylics
Saturday, May 5, 1-3 p.m.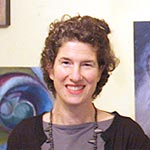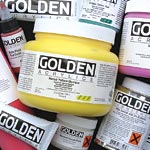 Judy Gittelsohn, our presenter, has been painting in Northern California for over 30 years. She is represented by Anne Loucks Gallery, Art Dimensions Los Angeles and The San Francisco Museum of Modern Art Artists' Gallery. Her paintings have been published in TIME magazine and Metropolitan Home Magazine.
She will demonstrate and discuss Golden Acrylic paints including Golden's slow-drying Open Acrylics. Judy demonstrates up and down the West Coast. Learn more about Judy at her website: judyg.com
Please call and let us know that you are coming: 831-423-1935. If we don't get enough takers for this date and time, we'll reschedule.
And remember that we will have lots of one-day sales on the day of the demonstration! Plus a free raffle and free samples for those who attend the demo!
Please stop by the store or contact us to sign up for our demo reminder e-mail list!
---
And more demos coming. . . check back for more information!
Want notices of our free demonstrations?

Sign up for our demo email list!

You'll hear about our demos and we'll include news, art information, specials, some humor and otherwise keep you in touch with happenings at Lenz Arts, the art mecca of Santa Cruz!