In-Store Workshop
Golden Brand Acrylics WORKSHOP - $65
<Will be rescheduled to a later date>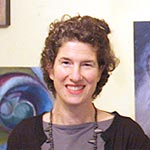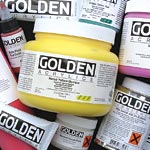 In Judy's own words about this 3-hour hands-on workshop . . .
Learn what quickens your heart. Find your way with paint in this lively overview of three extraordinary paints. One hour per paint; Golden Fluid Acrylics, Golden High Flow Acrylics, and QoR – Watercolor by Golden. All levels are welcome. We may defy gravity.
Golden Fluids allow for smooth flowing applications while retaining color intensity, tinting strength, film integrity, and adhesion. Golden High Flow Acrylic has an ink-like consistency that lends itself to a wide range of techniques, including staining, leveling, calligraphy, and mixed media. And...a new, thoroughly modern watercolor, QoR. QoR retains the best qualities of traditional watercolors while expanding the range and versatility of each color. QoR's exclusive binder provides more pigment in every brushstroke, offering a strength, range and versatility unmatched in the history of watercolors.
Please purchase a 16 x 20 or similiar-sized primed canvas. You may bring your own brushes. I will provide all the other materials and tools ... and Golden paints! Join us.
If you have questions contact me. Judy Gittelsohn – 650 248 5381 me@judyg.com www.judyg.com
Spots are LIMITED. Call us at 831-423-1935 with your credit card number or come by to register. There's still room, but don't wait!
Judy Gittelsohn, our presenter, has been painting in the Bay Area for over 30 years. She is represented by Anne Loucks Gallery, Art Dimensions Los Angeles and The San Francisco Museum of Modern Art Artists' Gallery. Her paintings have been published in TIME magazine and Metropolitan Home Magazine.
She will demonstrate and discuss Golden Acrylic paints including Golden's slow-drying Open Acrylics. Judy demonstrates up and down the West Coast. Learn more about Judy at her website: judyg.com
---
In-Store CLASS - Free!
Drawing for Absolute Beginners
Saturday, Sept. 29, 1-3 p.m.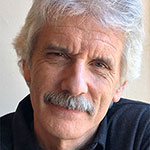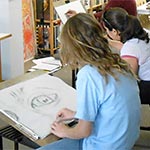 The easy-going and encouraging Rob Court, local drawing coach from The Scribbles Institute, will be conducting a hands-on introductory drawing class for people who are scared of drawing. He'll cover how to hold a pencil, drawing from observation, and basic composition. This is a session for rank beginners!
Class space is limited so registration is required. The class is free but there is $5 deposit which will be refunded in the form of a store credit when you arrive for the class. ("No-show = no dough!") Students are required to have a 9x12 sketch pad and 2B, 4B and 8B drawing pencils. Students may buy a sketch pad at 30% off for the class!
*** Register soon to reserve your spot! ***
---
And more demos coming. . . check back for more information!
Want notices of our free demonstrations?

Sign up for our demo email list!

You'll hear about our demos and we'll include news, art information, specials, some humor and otherwise keep you in touch with happenings at Lenz Arts, the art mecca of Santa Cruz!