Fire-damaged Lenz may reopen next week (March 20, 2002)
MIKE DE GIVE - Sentinel staff writer
Investigators found a one-burner stove and other evidence of camping beneath a burned section of Lenz Arts but haven't determined what role the items played in Saturday's fire.

"You can go almost anywhere in this town and find evidence of homeless camping," said Santa Cruz Deputy Fire Marshal Ray Zachau said. "It could have just been stored there."

The investigation also determined a gas meter near the blaze had failed, allowing natural gas to fuel the morning fire. But it's not clear whether the meter was damaged as a result of the fire or if the fire was caused by the broken meter, Zachau said.

The meter has been sent to Pacific Gas & Electric's labs for testing. The heat from the fire may have caused gaskets or nylon bushings to burn, causing the failure, Zachau said.

The fire caused an estimated $75,000 damage to the 80-year-old building, which was once a meat-packing company, plus another $5,000 in damaged supplies. Firefighters contained the fire to a small area despite hazards in the old building. The studs were coated in tar to prevent rot, and redwood bark was used as an insulation, Zachau said.

Most damage was to a section of the store where art books and canvases were sold. In the next room, turpentine and oil-based paints could have made matters worse, owner Andy Lenz Sr. said."We're happy everyone got out safely," Lenz said. "We're happy that it happened during the day."

No evidence points to arson, Zachau said, and nobody was injured.
Lenz is self-insured, a decision he made because of high premiums and deductibles, he said.

Andrew Lenz Jr. said the family hopes to have the store open as early as next Friday, March 29, though that depends on formal approval from the city.

A work crew has been cleaning up the mess since Sunday, and repairs are under way.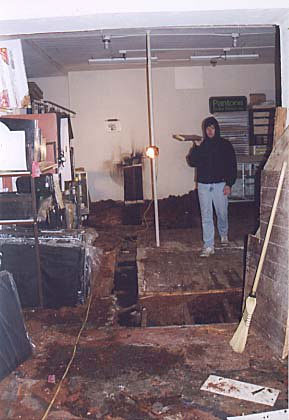 Matthew Lenz helping clear the back room which took the brunt of the fire damage. The floor was sawed through in long swaths to acces the fire.


[Unpublished photo
taken by Lenz Arts staff]
The younger Lenz himself spent a few hours Tuesday crawling under the building and scraping a few thousand square feet of charred wooden beams and floor boards down to good wood.

"It's arduous," he said. "My whole body hurts."

Other employees, meanwhile, have been processing pending orders for the custom-framing portion of the business.

The 14 people employed at Lenz are staying on the job, dusting ash from paint bottles and other merchandise.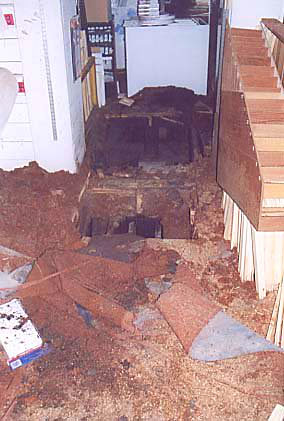 The firefighters sawed through our floor in several places to gain access to the fire under the building. This is between the rolls of canvas and the stretcher bars. It was a bit messy, but considering everything, they managed to keep damage to merchandise to a minimum.
[Unpublished photo taken by Lenz Arts staff]
[Santa Cruz Sentinel article republished by permission.]