Woodcut artist Tom Killion celebrates Mt. Tamalpais
(May 14, 2009)
By Chris Watson - Sentinel correspondent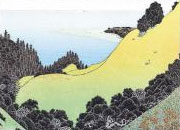 Among the mourners at James D. Houston's funeral last month was former Santa Cruzan Tom Killion, down from Pt. Reyes to pay homage to the teacher who'd jump-started his art career 35 years ago.

"I took an independent studies class from Jim Houston in 1972," Killion recalled recently. "He let me work on the first version of my first book, 'Twenty-eight Views of Mt. Tamalpais.'"

Printed in 1975 on the old Cowell printing press watched over by master printer William Everson, the book brought Killion's talent for woodcut illustrations into sharp focus.

While he eventually returned to school to earn a doctorate in history, his attention on the visual arts never waned.

Killion's first book also served as a personal introduction to Pulitzer Prize-winning Beat poet Gary Snyder, with whom he's enjoyed a long collaborative friendship.

In appreciation of Snyder's Japanese-inspired poetry about Marin County's Mt. Tam -- as well as Snyder's famous first circumambulation around Mt. Tamalpais in 1965 with fellow Beats Allen Ginsburg and Philip Whalen -- Killion gave him a copy of his book.

In 2002, the two friends collaborated on "The High Sierra of California."
They renewed their working relationship for "Tamalpais Walking: Poetry, History, and Print," recently published by Heyday Books.

On Friday, Killion will be at Bookshop Santa Cruz to renew old friendships and talk about his work.

"I lived in Santa Cruz most of my adult life," the Marin transplant said. "And until 2003 I kept a printing press, studio and apartment in Santa Cruz."
While he misses the light in Santa Cruz, the climate and the "wonderful creative culture bubbling with new ideas," Killion gets his fix every couple of weeks when he returns to buy glass from Santa Cruz Glass, frames from Garrett Moulding and art supplies from Lenz Arts.
"Nothing in the Bay Area is as good as Lenz Arts."

He adds: "Although this new book is about Mt. Tam, the initial creation was in Santa Cruz."

The lavish, full-color book includes woodcuts of Mt. Tam and essays by both Killion and Snyder as well as Killion's essay on the cultural, geological, literary and social history of the mountain.

As a child growing up in Mill Valley, Killion imbibed the sharp smell of chapparal and bay laurel regularly as he camped and biked the trails. By age 15, he'd produced his first Hokusai-like linocut of Mt. Tam.

With the mountain part of his very DNA, Killion was nevertheless surprised by some of the history he uncovered "" for example, the Sleeping Lady folk legend that white Americans casually ascribed to Miwok Indians.

Even more interesting was the influence on Mt. Tam exerted by the working class Germans who first formalized walking tours there.
"I remember seeing remnants of that world in my childhood," Killion said. "People would dress up in silly German costumes, beat a brass band and play oompah music."

Although Killion's new book includes a whopping 72 views of Mt. Tam, he's not finished with the mountain nor the mountain with him.
"I'm never done with Mt. Tam," he said. "Since finishing the book, I've done two more woodcuts."

Those curious about Killion's growth as a woodcut artist will especially enjoy the series of blocks that went into making the 15-color "Bolinas Ridge" print.

This fall, a segment of "Craft in America" on PBS will feature Killion's process in creating that print.

'TAMALPAIS WAS MY PLACE OF ESCAPE, THE ROMANTIC BACKCOUNTRY OF MY PRE-TEEN INDEPENDENCE ... AS I GREW OLDER THE MOUNTAIN BECAME MY LOST WORLD OF REMEMBERED CHILDHOOD, THE INCARNATION OF ADULTHOOD'S LONGING FOR UNRETURNABLE TIME. I SUPPOSE MOST OF US HAVE SUCH A PLACE. FOR ME IT WAS TAMALPAIS.'
-- from 'Tamalpais Walking: Poetry, History and Prints by Tom Killion.

IF YOU GO
tom killion
Author of: 'Tamalpais Walking: Poetry History and Prints
when: Friday, 7:30 p.m.
where: Bookshop Santa Cruz, 1520 Pacific Ave., Santa Cruz
details: 423-0900
[Santa Cruz Sentinel content republished by permission.]